Gabriel Szlaifsztein, General Manager – LatAm at Continent 8 Technologies, shares some key insights into its partnership with Betcris and how the operator is leveraging its Public Cloud and DDoS solutions to drive growth in new markets
Entering new markets is a major driver of growth for international operators, allowing them to significantly increase their addressable audience in regulated jurisdictions around the world. But where there are opportunities there are also challenges, and, in most cases, overcoming these challenges requires working with third-party specialists to ensure entry into new markets is smooth and seamless, and that the infrastructure required for long-term success is in place.

Betcris needs no introduction. The Malta-licensed operator has global ambitions and is already live in the Caribbean, the Philippines, Poland, Mexico, Colombia and Peru where it offers players a highly localised and comprehensive online and mobile and sportsbook experience. It is also keeping a close eye on key jurisdictions on the cusp of regulation, such as Brazil where parent company TV Global Enterprises has already pledged to make a significant investment.
Challenges that come with international expansion:
The operator is fully aware of the challenges that come with international expansion and first reached out to Continent 8 Technologies back in 2019. The company shared its new market expansion plan with our team and acknowledged that it needed an infrastructure partner to support its growth as and when jurisdictions opened up. In particular, it needed a partner that was compliant with these newly regulated markets and understood the often-complex regulations in place. It also needed flexibility and reach.
Security was a consideration, too. With the volume and sophistication of cyber-attacks on the rise across the global online gambling industry and beyond, Betcris wanted to ensure that its systems and data were as safe and secure as they could be.
How these challenges were overcome:
As the leading provider of managed hosting, connectivity and security to the gambling industry, Continent 8 was unrivalled in its ability to support Betcris. Over the past two decades, we have built a network of 85+ connected locations across four continents and a comprehensive suite of solutions that allow operators and suppliers to scale their business in a highly secure environment. Having assessed Betcris' needs, we suggested the operator leverage our Public Cloud hosting via Malta, a platform which includes DDoS protection as standard.
Our Public Cloud solution offers customers a multi-tenanted, scalable and resilient IaaS platform that allows them to host infrastructure as virtual machines. It is available in a number of Continent 8 locations including Dublin, Isle of Man, Atlantic City, Montreal and of course Malta.
Meanwhile, our DDoS services, built over many years, use an optimised combination of technologies and our customised development layer. We work with key technology partners for our monitoring, detection and mitigation environment.
The result? Scale with confidence:
A key benefit to Betcris using the cloud is that it removes the need for ongoing hardware investment which in turn provides the flexibility to pay for resources based on consumption. We also fully manage the cloud environment, removing the need for the operator to maintain and support infrastructure. Instead, it can focus on growing its business including entering new markets. What's more, Betcris has been able to expand into new markets easily, thanks to our interconnected network, with the peace of mind that data is safe and secure and that it is doing all it can to fend off cyber-attacks.
The foundation for long-term growth:
By selecting Continent 8 as its infrastructure partner, Betcris has put in place the foundation it needs for long-term growth and success in both new and existing markets. These partnerships are key for Continent 8, and we pride ourselves on building strong relationships with our customers.
We have ambitious expansion plans of our own as part of our first-to-market strategy, with launches in LatAm jurisdictions such as Brazil, Argentina and Chile on the horizon. Our roadmap is vast, we are growing rapidly, and our ability to launch quickly and in line with our operators' visions is what sets us apart.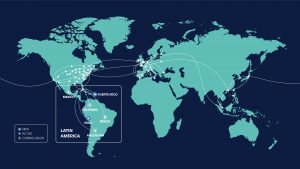 In addition, in all markets, we work closely with the regulator to fully understand the requirements in place, and also share our experience and knowledge to help them develop their frameworks to meet the highest possible standards. Regulation can be complex, so operators need to have confidence in their strategic partners and we have the knowledge and experience to offer this.
A quick word from Betcris:
We are incredibly proud of our partnership with Betcris and the success the operator has enjoyed since using our Public Cloud and DDoS solution. This is what Fernando Garita, Commercial Director at Betcris, has to say about Continent 8 and our solutions:
"Continent 8's ability to provide services in different countries around the world in an agile and efficient manner has aligned perfectly with our growth strategy, making Continent 8 a trusted provider."
New market expansion is key to operator growth, but it must be done in the right way and via a cutting-edge infrastructure that facilitates seamless launches while also protecting systems and data. From ambitious start-ups to global dominant players, it's important to be in the driving seat to successfully deploy a sportsbook or casino brand in markets around the world.
José Hernández – Betcris IT Director, believes the company's decision to use Continent 8 was the right one:
"Since we made the decision to use one of Continent 8's Data Centers, we have had an excellent experience, providing us with a robust and above all, reliable cloud environment.

Also, since working with Continent 8, we've not experienced any reduction in our service, which has only reiterated to us that we made the best decision when we chose them as part of our technological family.

 Their support function is always there to help round the clock. As a result of their excellent service, our company recommends them 100%."
Source: SBC Noticias