Continent 8 (C8) has been enabling AWS Outposts for iGaming (or Real Money Gaming as termed by AWS) to such an extent that we proudly host and connect the largest deployment of AWS Outposts in the sector.
Based upon this experience, we have previously provided advice on considerations for co-location and power, connectivity, and security. 
In this latest guidance overview, David Brace, Anthony Engel, and Justin Cosnett have produced a guide on best connecting the AWS Outpost for iGaming and the steps to deployment and ownership.
AWS Outpost
An AWS Outpost Rack is effectively a Private Cloud for native AWS services, similar to C8's own agnostic Private Cloud; it is fully managed, monitored and supported, and customers utilise the services and resources they need to deliver their product. Unlike C8's Private Cloud it is a self-contained dedicated rack with specific power and connectivity considerations.
AWS Outpost Server is a 1U or 2U device from AWS which can be implemented into a customer environment to provide native AWS Services. The devices are replaced if there is any issue within a specific break-time response, and customers manage the installation and configuration of them. C8 has provided a further overview of AWS Outpost Server here.
Recommended for iGaming (RMG)
Licensed operators, especially in the US, need to ensure they deploy an AWS Outpost meeting stringent regulatory requirements in-state and consider wider federal perception.  Requirements for iGaming operators and suppliers to consider technically for resilience, scale, and performance are:
Interconnectivity – needing all AWS Outposts to communicate locally, remotely and with multiple AWS services.
No network infrastructure – all sites to be "green-field" with no separate network infrastructure and associated co-location rack space.
No network management – no local network management "outside" the AWS Outpost.
Quality connectivity – low latency, diversely resilient private and secure (not DDoS-able) 10Gbps port / up to 5Gbps guaranteed data transfer rates across the US.
Future-proof – provision guaranteed for existing and future sites in all States with highly scalable connectivity to multiple AWS direct connect locations, with a template for replication.
The Guide
In this guide, C8 simplifies and tabulates the options for connecting an AWS Outpost from our recommended and default implementation, to other specific deployment architectures which have been requested.
Advantages and considerations are provided, as well as simple diagrams showing a logical connectivity solution to all connectivity services, an example below: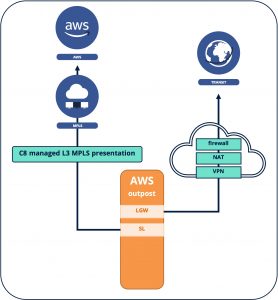 Further, the guide provides a roles and responsibilities overview for each deployment type – acting as a step-by-step guide to how and who undertakes the various activities to ensure a smooth and fast deployment.
We have supported significant growth in AWS Outpost deployment for iGaming operators, working with some of the biggest brands in the industry. To best serve our partners in the US and worldwide, our team works closely with AWS to understand and meet customers' requirements. As a result, we can deliver template playbook solutions, enabling the fastest resilient deployment.

Justin Cosnett, Chief Product Officer at Continent 8 Technologies
AWS Accredited Hosting
C8 has ensured that all co-location sites are not just ready for connectivity but meet the stringent requirements of the AWS Outpost for power, logistics, environment suitability and security.
Additionally, C8 also has specifically accredited its European and US data centres for AWS Outposts, which enables an even swifter purchasing and deployment process through the AWS ordering process.
About
Continent 8 Technologies (C8)
Founded over 20 years ago, C8 is an award-winning, multi-jurisdictional, global network solutions provider that connects, manages, and secures the world's most valuable information.
The company has data centres and strategic points of presence in over 90 connected locations spanning Europe, the Americas and Asia, and is expanding rapidly. Its carrier-grade network powers some of the biggest brands in iGaming.
With a first-to-market strategy, C8 is currently live in 25 states with future sites planned in the near future, enabling customers to capitalise on the fast-growing market.
C8 is an AWS Advanced Consulting Partner and as a member of the AWS Partner Network (APN), the company can assist iGaming operators and suppliers with AWS RMG (Real Money Gaming) services and solutions. This includes the deployment and hosting of AWS Outposts throughout the US, via an AWS Outposts Enablement Package, which provides a delivery team to lead, co-ordinate and support the deployment from pre-install to go-live.