Isle of Man-based global infrastructure provider to sponsor local rider for the rest of the race season including the upcoming TT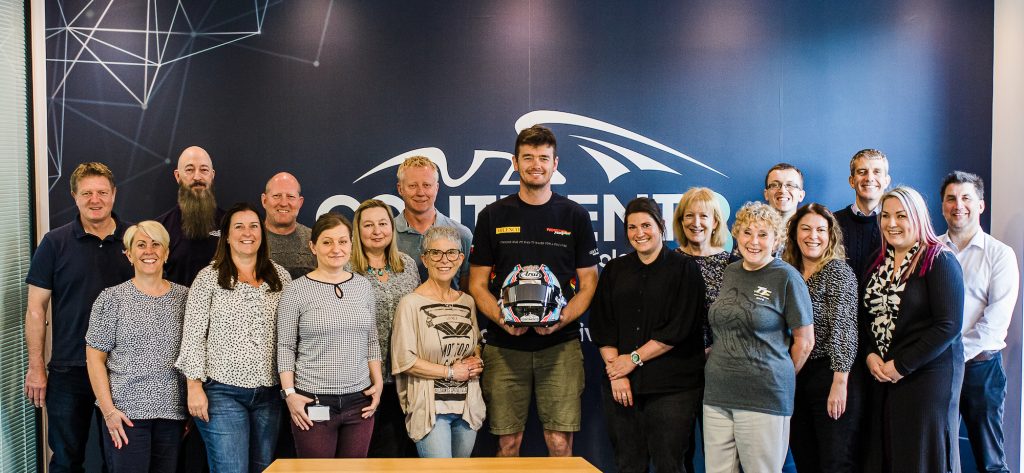 Continent 8 Technologies, the award-winning provider of global managed hosting, connectivity, cloud and security solutions, is continuing its 25th-anniversary celebrations with an adrenaline-fueled sponsorship deal with Isle of Man TT legend and local businessman, Conor Cummins.
Continent 8 will sponsor Conor for the rest of the race season, including the upcoming IOM TT – the ultimate must-see event for motorsport fans which gets underway on 29 May. The company's logo will appear on Conor's helmet with the rider also dropping by its HQ to meet members of the team.
Conor is the only thing faster than Continent 8's connectivity, with the rider holding the fastest-ever TT lap time for a Honda with an average speed of more than 133mph. Members of the team and their families will be able to watch Conor in action during a practice session at the popular Creg Ny Baa, at an event organised by the company's social committee.
The sponsorship forms part of Continent 8's year-long celebrations marking its 25 years of reliable innovation, as the leading infrastructure provider to businesses on the Isle of Man and globally across its network of 90+ locations covering four continents.
Anna McChesney, Senior Marketing Manager at Continent 8 Technologies, said: "The Isle of Man TT is one of the greatest spectacles in motorsport and Conor is a legendary rider and local ambassador. Continent 8 is committed to supporting the Isle of Man and the businesses and people on it, and this sponsorship deal is a great way of doing just that.
"This year we celebrate our 25th anniversary and for the team on the island, this is one of the most exciting ways we have marked the occasion. Keep your eyes peeled for the Continent 8 logo on Conor's helmet, although that could be easier said than done at 200mph!"
Conor Cummins, Isle of Man TT rider, added: "Nothing beats the thrill of taking part in the IOM TT and to do that with the backing of local businesses such as Continent 8 makes competing in it that little bit more special. I'd like to thank Continent 8 for its support – I can't wait to be on the roads for the 2023 TT."