According to independent analysis company Canalys, global cloud services spend exceeded $50 billion in Q4 2021, bringing the industry total for the year to $178 billion!
With increased demand for cloud infrastructure services, Continent 8 (C8) has positioned itself as the multi-cloud provider for the global online gambling (real money gaming) industry, and we have achieved some phenomenal growth in our Cloud capabilities.
In this article, Justin Cosnett covers what multi-cloud means in C8, the differences, what a regulated or community Cloud is, and future developments we are working on.
The C8 guide to Clouds
Choosing the right Cloud solution for your business is crucial; here's a quick overview of the various Cloud solutions available, and the pros and cons associated with these.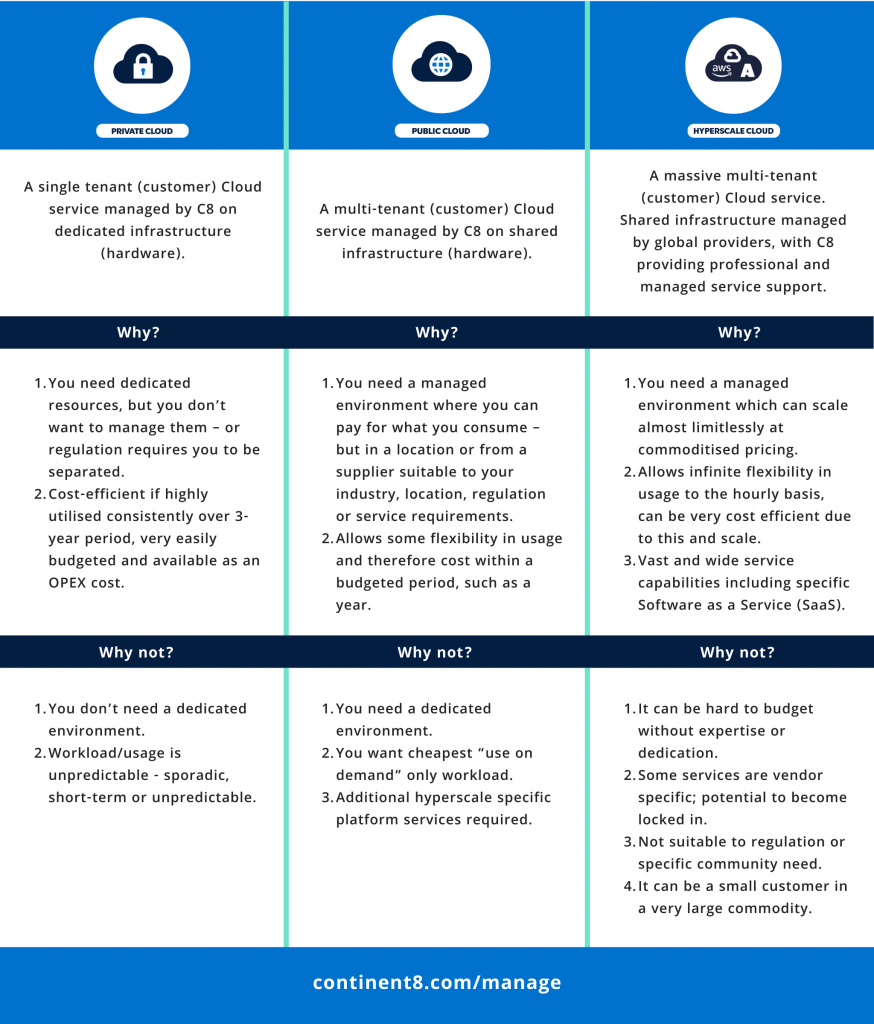 … Community or regulated Cloud?
A community Cloud is a Public Cloud which is oriented towards a specific community or vertical or industry. It may have specific properties or capabilities which are directed towards achieving the goals of a specific community of users. The C8 regulated Cloud is therefore a community Cloud – it's a Public Cloud environment which is multi-tenanted but designed to specifically provide an iGaming community with a Cloud which meets the complex regulatory requirements for the industry.
C8 operates a regulatory compliant Cloud environment in Atlantic City, Malta, Gibraltar, Isle of Man and Kahnawake – as well as community or Public Clouds in Colombia, Dublin, and Taiwan.
As C8 expands we can deploy network edge Clouds which can be grown to provide community or regulatory Cloud functions, as well as hybrid or network edge functionality to customer infrastructure, aligning with C8's multi-cloud vision:
Private Cloud, by C8
Providing a dedicated customer environment for customers matching their specific requirements, a Private Cloud is a tailored solution which minimises infrastructure management. C8 manages, monitors, and supports the entire infrastructure beneath the customers Cloud environment.
How it works, from C8
Account Directors can provide customers with example and budgetary Private Cloud overviews to aide preparing for requirements gathering
Solution Architects work with customers to identify resource, resiliency, and term requirements
Cloud Architects develop a tailored infrastructure BoM to deliver the requirements
Proposal including Co-Location and power, infrastructure financing and professional and managed services is provided
Customer signs contract: Project Managers are engaged
Private Cloud environment is deployed and prepared for customer to take tenancy
C8 can even provision customers Private Cloud environments in a Public Cloud for preparation activity, and migrate when the Private Cloud is available, enabling customers to have an accelerated project plan for new deployments.
Private Cloud "flavours"
During the requirements gathering and design stage, C8 will establish which infrastructure architecture will best support the customers immediate and long-term needs:
3-tier (compute, network, and storage) stack – low cost proven entry point
Hyperconverged – resilient and scalable best of breed, with different vendor options:
This is combined with ensuring the right level of storage IOPS and CPU contention as well as any backup requirements, for example an attached Veeam environment.
What can C8 do for Hyperscale?
We already deliver significant managed connectivity to all the hyperscale providers, enabling customers to exchange data securely and privately between their Hyperscale and Public or Private Cloud environments.
C8 has been growing its partnership accreditation and capability to support a professional and managed services capability:
In summary, C8 is well-equipped to assist customers in adoption, migration, and best practice use of the right Cloud for the right workload, per the C8 Cloud vision!
Contact our experts today to find out more about which Cloud is right for you via sales@continent8.com