At Continent 8 Technologies, we use marketing automation to ensure that we engage potential customers with the right messaging at the right time, via the platforms where their attention can be found. Menaka Raghuvanshi is a Marketing Automation Manager at Continent 8, and for this edition of Cultiv8, Jordan Holmes, our HR Manager, sat down with her to learn more about the role automation plays in our marketing activity, what attracted her to Continent 8 and what her day to day duties include.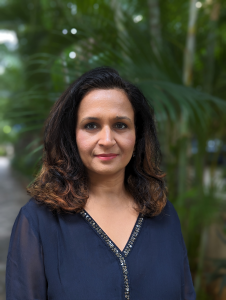 What actually is marketing automation and what role does it play within Continent 8?
Marketing automation is the use of software and technology to automate and streamline marketing tasks and processes, and to run integrated campaigns. The primary role it plays within Continent 8 is to improve efficiency, increase productivity and enhance the overall effectiveness of our marketing efforts. As the industry continues to grow, we want to be able to engage more operators and suppliers and make them aware of the products and solutions that we provide across iGaming managed hosting, connectivity, cloud and security. By automating our marketing activity, we can be highly targeted with our communication and ensure the right message is sent to the right potential customer at the right time.
As Marketing Automation Manager, what does your day-to-day role include? 
My typical day involves campaign planning which takes in data analysis, data segmentation, content development, email marketing, landing page creation, CRM integration, troubleshooting the flow of data between systems and measuring the effectiveness of campaigns. Data is the foundation of our marketing activity, especially when it comes to automating campaigns. It allows us to test and learn and ultimately improve our messaging to ensure that it connects with the target audience and engages, educates and entertains. It's a comprehensive role that sits within the wider marketing team and I am always excited to start each day and take on the tasks in front of me.
What attracted you to Continent 8? What do you enjoy most about your job?
Continent 8 operates in the global online gambling industry and this was a space that I had not worked in before. This made it intriguing and interesting to me. As I learned more about the company, I could see that it was hugely successful but with plenty of growth opportunities in front of it. I also really bought into the vision of the founder and the management team and felt like the culture aligned perfectly with my values. In terms of what I enjoy most about my job, it's the variety of the role and that I learn something new every day. This keeps me motivated and allows me to grow. I also like working with a diverse team across the globe – it's inspiring to work with such talented colleagues and also broadens my perspective.
How do you effectively use marketing automation tools to streamline campaign processes and improve overall efficiency? 
Our utilisation of marketing automation starts with audience segmentation and then takes in the development of precise content strategies and automation of workflows for tailored customer experiences. We employ scoring models, such as lead scoring along with CRM integration, to enhance lead management while closely monitoring campaign performance through analytics. Of course, all of this is done with strict adherence to data protection regulations. Ultimately, automation allows us to put segmentation, data and analysis at the heart of all marketing activity to ensure that it's working and delivering the return on investment that we are seeking.
How do you measure the success of marketing campaigns using automation? Which key metrics do you focus on?
The metrics we use to determine the success of a campaign vary for each campaign and the goals that we have set. That being said, there are some common metrics we use for most campaigns including open rate, conversion rate, click-through rate and the return on investment. The more campaigns we run, the more data we generate and with the right analysis and use of automation tools, we have seen a meaningful increase in these metrics over recent months.
What steps do you take to ensure that automated campaigns are delivered at the right time and through the appropriate channels? 
It all starts with segmenting your audience so that you know who you are talking to, the messaging they need to receive and how and when that messaging is delivered. From here, it's then about mapping the customer journey and creating tailored content for different stages and channels. We also use automation workflows to trigger messages at key points and schedule delivery times so that people receive communications at the times when they are most likely to engage with them.
How do you stay updated with the latest trends and best practices in marketing automation to continuously optimise and innovate campaigns? 
To stay abreast of the latest trends in marketing automation, I engage with industry-specific online resources, blogs and websites that provide up-to-date articles, case studies and whitepapers. I also participate in webinars and podcasts hosted by industry experts and attend conferences and seminars to gain insights from peers and workshops. I am also a part of multiple marketing automation groups on LinkedIn, which are great places for sharing new ideas and insights.
In your opinion, what are the most important skills and qualities required for a Marketing Automation Manager to be successful in their role? 
One of the most important skills is understanding how to use marketing automation platforms. A good manager must also be up to speed on data analytics and have the ability to work with HTML/CSS and integrate systems seamlessly. Strong project management skills, including organisation and time management, are important, too. I also think the person needs to be passionate about marketing and love working with data, so being both creative and analytical.
How do you collaborate with other departments, such as sales or content teams, to align marketing automation efforts with overall business objectives?
We establish clear communication channels and hold regular meetings with internal stakeholders to share insights, objectives and strategies. We also work closely with the sales team to understand their needs for lead qualification, nurturing and conversion. This collaborative approach ensures that all marketing activity ultimately delivers quality leads for the sales team to take on and convert into new customers.
Want to work for Continent 8, the iGaming hosting and cybersecurity partner? View our latest vacancies here