A truly global Continent 8 team, with members from Canada, the US and the UK, recently attended the Collision conference in Toronto. Bringing together the people and companies that are redefining the global tech industry, our team enjoyed making new connections and learning about the latest tech developments.
We asked some of the team, made up of Justin Cosnett (Chief Product Officer), Ryan Tobin (Director), Craig Lusher (Senior Product Specialist – Secure), Caue Moyano (Software Developer), Daniel Zacharski (Product Manager) and Anthony Engel (Director of Solutions Engineering) to share their highlights and learnings from the global conference.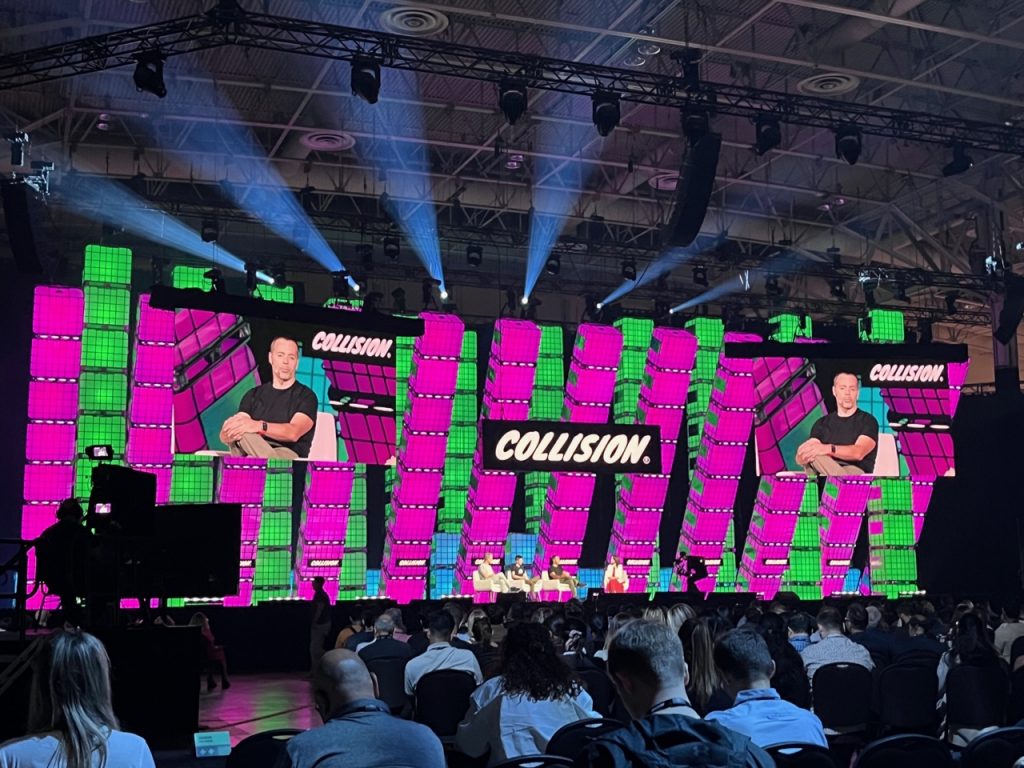 This is what they told us…
What did you most enjoy about the event?
Craig Lusher (CL): This big tech 'Californian vibe' event was a completely different format to what I am used to attending. There was real excitement and a buzz in the air and the best thing was to see new up and coming ideas, businesses and their supporting technologies.
Daniel Zacharski (DZ): I enjoyed seeing the multitude of different products that are available or in flight, both from a curiosity aspect and also trying to figure out which would expand our product portfolio and solve customer problems.
Caue Moyano (CM): I mostly enjoyed the new technologies arising from the potential of AI. I've had the opportunity to see a variety of new startups making good use of it and creating products that might become of great use for many industries.
Which tech brand stood out most to you?
CL: At Bay – for combining world-class technology with industry-leading insurance expertise. Also for their interactive questions and opinion polls throughout the show
Orna – for their innovative Al-powered collaborative cyber incident response orchestration platform for all business functions.
Naoris Protocol – for their cybersecurity enforcement protocol employing a Hyperstructure ethos, that's unstoppable, permissionless, and credibly neutral.
IOPS – for their community driven DDoS solution that uses 'spare' bandwidth from other scheme participants.
DZ: KeepSec – for all they have accomplished in such an early stage of their existence and UiPath – for having a lot of potential.
CM: Google – for a visually impactful stand and their Google Lens app which uses AI for daily tasks.
Which speaker or session did you find the most interesting and why?
CL: I really enjoyed the 'Masterclass – Defending your business from Cybercrime' featuring Adam Tyra, GM of Security and Larry Crocker Head of Digital Forensics and Incident Response from At Bay. Real life case studies and statistics were provided during this masterclass which I found to be incredibly interesting and useful. Financial fraud, unpatched vulnerabilities, stolen credentials, backups and on-prem servers and the payment of ransoms were just some of the topics broached during this masterclass.
DZ: I found the entrepreneur pitches to be the most thought-provoking. There were multiple different startups taking their turn in front of established industry experts. The insightful questions and responses were the most interesting.
CM: I found David Singleton (CTO, Stripe) session titled 'Engineering for agility: Strategies to overcome the challenges of scale' fascinating. This talk was about the strategies adopted by the Stripe team to be able to scale their application to millions of users. As a developer, I found very interesting to learn the strategies and steps adopted.
What technological innovation are you most excited about?
CL: Obviously Artificial Intelligence (AI) was embedded in everything. There were many talks as this is the current technology buzz. There were inspiring talks about AI, but also scary ones. We heard from Geoffrey Hinton – the Godfather of AI.
DZ: I'm excited about the potential of AI but I also am wary that much of it is very undefined and more marketing than true AI.
CM: I am mostly excited about the use of AI in a vast range of industries, bringing tools that can make our lives easier.
Did you learn anything that will change the way you do business from now on?
CL: Artificial Intelligence!
DZ: My biggest takeaway is to remember to continue to innovate and question. It was also a reminder that there are partnerships available that can benefit us. We do not have to develop everything internally.
CM: I did learn some things that might change the way I work and organize myself. I could see how effectiveness and resiliency is important in all aspects of our lives. Besides that, I could also see how AI is already changing the way we live and its prospects.