We blocked 546 DDoS attacks in Q3 more than double the 240 blocked in the previous quarter.
Our latest statistics show the number of DDoS attacks more than doubled in 3Q21 compared to the previous quarter. Our expert security team has been closely monitoring the threats and have analysed the data for the period 1 July – 30 September 2021.
The stats relate to 25 of our customers based in different locations around the world. Key highlights include:
Blocked 546 DDoS attacks, up from 240 in 2Q21
60 of the observed attacks had repeat attacks within a 24-hour period
One customer was attacked 288 times during the period
Attacks breached 1Tbps in size with the previous highest recorded at 750Gbps
Peak attack size hit 1.8Tbps for the first time
Number of attacks over 100Gbps more than double QoQ from 50 to 121
Average attack size reached 48.9Gbps up from 7.9Gbps in previous quarter
Longest sustained attack was 22.1 hours compared with 3.1 hour in 2Q21
Customers were under attack for a total of 326 hours compared with 29.2 previous quarter
We recorded the highest number of attacks in August (371 in total). In July, a total of 94 attacks were recorded with a further 81 observed in September. The location subject to the largest number of attacks during the period was Taiwan – this is an emerging trend.
Our latest statistics align with wider trends that show a steep rise in the number of cyberattacks being launched against business and organisations around the world, with DDoS and Ransomware the most prevalent methods of attack.
Craig Lusher, Senior Product Specialist – Secure, at Continent 8 Technologies, said: "During the third quarter of 2021, Continent 8 has blocked a record number of DDoS attacks and the increase in frequency, size and sophistication is clear to see.
"For the first time, most attacks were more than 10Gbps in size opposed to under 10Gbps for every other period on record. The increase in attacks and repeat attacks, which we define as multiple attacks occurring against the same customer within 24-hours, align with wider global trends.
"Interestingly, the most popular attack vector was UDP floods. In addition, most attacks encountered were attacks where the received PPS (packets per second) for UDP traffic exceeded the threshold for a /32 address range.
"Thresholds were also breached multiple times for received TCP PPS against a /32 and the high ratio of SYN packets compared to other."
Globally there has been a significant rise in the number of cyberattacks over the past 12 to 18 months. No business is immune and companies and organisations of all shapes and sizes are being hit by increasing sophisticated and sinister attacks.
In fact, the average cost of a data breach in 2020 was $3.86m. This is a staggering figure and one that should prompt you to ask the question – is your business protected?
We have more than 20 years' experience in protecting the world's most valuable information, making us the leading provider of cybersecurity solutions to the iGaming industry. This includes effective and scalable protection against DDoS attacks.
Our mitigation service provides an effective defence against multi-vector volumetric attacks. Key features include:
Geographically distributed high-capacity IP network which has been built to absorb attacks
Complete infrastructure protection with Layer 3 and 4 Volumetric protection with Level 7 challenges to reduce traffic from SSL based attacks
High-capacity scrubbing centres located in London, New York, Los Angeles and Hong Kong
BGP filtering technology which is used to filter attack traffic at the network edge
Attack detection technology to monitor and detect attacks
Highly experienced team and a Customer Support Portal to view and interpret data flow and attack events
Our proven platform is one you can rely on with a capacity only matched by the largest DDoS providers on the planet. Learn more about our DDoS solutions here
Welcome to our Cultiv8 Employee Series; a monthly blog where our HR Manager Jordan Holmes will sit down with a member of the Continent 8 team to discuss their role, passion projects and career development. First up, meet Leon Allen. 
Leon is Continent 8 Technologies' Cybersecurity Director and has recently decided to undertake a PhD at City University in London.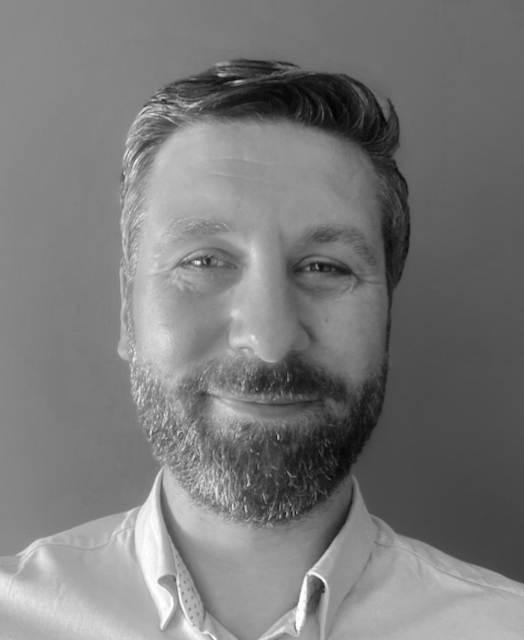 Leon's PhD aims to research and create a Cyber Threat Intelligence Service that will help Continent 8 and the wider security community access more information and insight about cybersecurity threats, allowing businesses to better prepare for and defend against attacks.
Continent 8 is supporting Leon's PhD and the entire team is encouraging of his professional development. Jordan chatted with Leon to learn more about how his PhD came about, the topic it will cover and what he hopes to achieve by completing it.
Can you tell us about your current role at Continent 8 and what it entails?
I have been with Continent 8 for more than four years and my current role is Cybersecurity Director. In this position, I oversee the full range of security products we offer to our customers including advanced cyber defence, applied cybersecurity solutions and managed security services.
I also lead the Security Innovation Program at Continent 8 which discovers and delivers new and innovative cybersecurity technologies and techniques to our customers but also to the wider cybersecurity community.
Part of my role sees me take part in webinars and join panels at industry events. I also author blogs and articles, sharing my knowledge and understanding of cybersecurity with our customers and partners, as well as the wider industry. It is a varied role and one that I thoroughly enjoy.
Why did you decided to undertake a PhD?
This is a good question as the first answer that comes to mind is that I am not entirely sure given the large amount of work that is required! Jokes aside, it is important to note that a PhD wasn't my first go-to for further professional development – I had no idea what it entailed and am still learning.
In terms of how it came about, I am a keen advocate of continued professional development and was in the process of researching the various security accreditations (CEH, CISSP, CISM, etc.) to find the most appropriate one to compliment my master's degree in information security.
At this point I had a sort of epiphany and remembered that my lecturer once asking me to consider returning to undertake a PhD at some point in the future. So, I did just that and reached out to my lecturer who is now the Head of Computer Science at City University.
I hoped to get the answer to the following three questions:
What actually is a PhD?
How do you start one?
Is this right for me?
His responses and subsequent advice and guidance was instrumental in starting the process especially as he explained that a PhD does not have to be purely research based – I had always assumed it was – and it could be a combination of research and developing a practical solution.
As I am not a naturally academic person, this fitted perfectly with my own capabilities and learning objectives. As I already had an idea for my PhD topic, the next step was to create a formal PhD proposal which is a fairly substantial document in itself.Once I had written this, I submitted it to City University and, thankfully, it was accepted a few weeks later.
Can you tell us more about the topic your PhD will cover?
The full title of my PhD is "Creating a Unique and Effective Cyber Threat Intelligence Service". In terms of the practical element, it will allow me to create a Threat Intelligence Service that will be of benefit to Continent 8 and its customers as well as the wider cyber security sector.
Threat intelligence is a collection of certified cyber threats which can be used by companies to understand the threats they are likely to encounter whilst operating their business. By using a Threat Intelligence Service, they can take action to prepare for and defend against these threats.
Continent 8 operates multiple cybersecurity platforms to protect its customers which include a Multivendor Global Distributed Denial of Service mitigation solution (DDoS), Enterprise Web Application Firewall (WAF), Threat Prevention, Detection and Response solution backed by a 24/7 Security Operations Centre (SOC).
These three products, offered in conjunction with providing hosting and connectivity for a multitude of customers around the world, generates a large amount of potentially useful threat data. I plan to use this to create a new, anonymised, Threat Intelligence Service.
This can then be accessed and used by organisations and businesses to aid in defending the world from cybersecurity threats.
This sounds like a great way of using Continent 8's data to help others. Was that a major driver for doing a PhD in the first instance?
Exactly! I want to add to the greater good and what better way to do this than by leveraging the huge volumes of data generated by Continent 8 and sharing it with the wider security community to help prevent cybersecurity attacks across the world.
Of course, by doing this through a PhD I get to access City University's lectures and facilities which provides an excellent opportunity for as much further learning as I could ever wish for.
I am also excited by the challenge that it presents. Writing the proposal – which was just six pages – was tough and I am having to retrain my brain to use a more formal writing style with Harvard Referencing.
My PhD could take up to eight years to complete so it is a big undertaking, but I am certain it will be worth the effort both in terms of my own development goals and also in the end product that will benefit Continent 8 and the wider security community.
How is Continent 8 supporting you in undertaking your PhD?
From the very start of the process, I have been in discussion with Continent 8's CEO Michael Tobin. Even before we realised it could be done in conjunction with Continent 8, he has been incredibly supportive and even asked to see a draft of my proposal so he could offer thoughts and comments.
Having read my proposal, Michael and Continent 8 offered to sponsor my PhD which I am incredibly grateful for. I have also spoken with members of the team about this and what I want to achieve, and everyone have been massively supportive and offered to assist where they can.
Do you hope your PhD will encourage further information sharing within the cybersecurity sector?
Absolutely. Traditionally, cybersecurity is a closed ecosystem in the sense that threats, types of attacks, mitigation tools and techniques are not widely talked about. I think this has a lot to do with fear and potentially the worry that being a victim of an attack reflects badly on the company.
That is not the case – cyberattacks can happen to anyone at any time and in order to win the war on cybersecurity it is more important than ever before to share knowledge and pool our efforts. I hope my PhD and Threat Intelligence Service can act as a catalyst for this.
Why is cybersecurity such an issue right now?
Because we are seeing more threats and attacks than ever before. For the past 20 years, and following the incredible growth of internet connected devices, cybersecurity has emerged as a critical consideration for business and individuals.
Our awareness of attacks has increased over this period and certainly in recent years due to some of the targets of cyberattacks being high profile – the Irish Health Service, Colonial Pipeline, etc. – and the massive impact these attacks have had on their targets.
In general, recent attacks reported by the media have been focused around two key areas – Distributed Denial of Service (DDoS) and Ransomware, which is the most prevalent. According to Check Point's mid-year security report, there was a 93% increase in the number of ransomware attacks carried out in 1H21 than in 1H20.
The reason for this dramatic rise is due to attackers exploiting changes caused by the pandemic, including the shift to hybrid working with employees operating both remotely and in the office. This has opened up a multitude of new attack vectors for criminals.
Criminals are now also targeting an organisation's supply chain and network links to achieve maximum disruption. This is why cybersecurity is critical for businesses and individuals and thankfully organisations such as Continent 8 are here to help.
Learn more about Continent 8's Secure offering here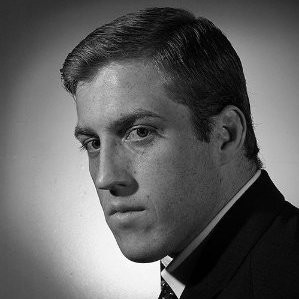 Thanks for your time Leon and best of luck with your PhD!
This is the first interview in the Cultiv8 Employee Series with Jordan.
Continent 8 (C8) is an Amazon Web Services (AWS) Select Consulting Partner and has built the capabilities to support customers accelerate the adoption of AWS cloud services. Esports Entertainment Group, a full-stack esports and online gambling company, required a partner to deliver reliable and dedicated connectivity scalable to requirements. C8 worked to produce a suitable regulated solution to fit the various challenges faced. 
The Customer
Esports Entertainment Group is a full-stack esports and online gambling company fuelled by the growth of video-gaming and the ascendance of esports with new generations. Their mission is to help connect the world at large with the future of sports entertainment in unique and enriching ways that bring fans and gamers together.
With a "core-AWS" platform design, and a regulatory requirement for dedicated in-state transaction processing, an AWS Outpost was the necessary infrastructure stack, connected to AWS regions.
Needing a provider to create a solution which would deliver reliable and dedicated connectivity scalable to requirements, Continent 8 (C8) worked to produce a suitable regulated solution to fit the various challenges faced.
The Challenge
There were multiple requirements to be met from technical to commercial, with an over-riding desire for repeatability through a template solution design:
Quality Internet Connected – the need to enable the AWS Outposts to communicate not just to AWS Regions directly and privately, but also public internet via low latency, diversely resilient private and secure guaranteed data transfer rates across the US.
No network management – no local network infrastructure beyond the AWS Outpost; Atlantic City implementation to be "green-field" with no separate network infrastructure and associated co-location.
Regulated service provision – as a New Jersey Division of Gaming Enforcement (NJDGE) licensee, any required solution needed to be regulator approved.
Future-proof – a capability to support existing and future potential requirements, from network edge to compute and storage.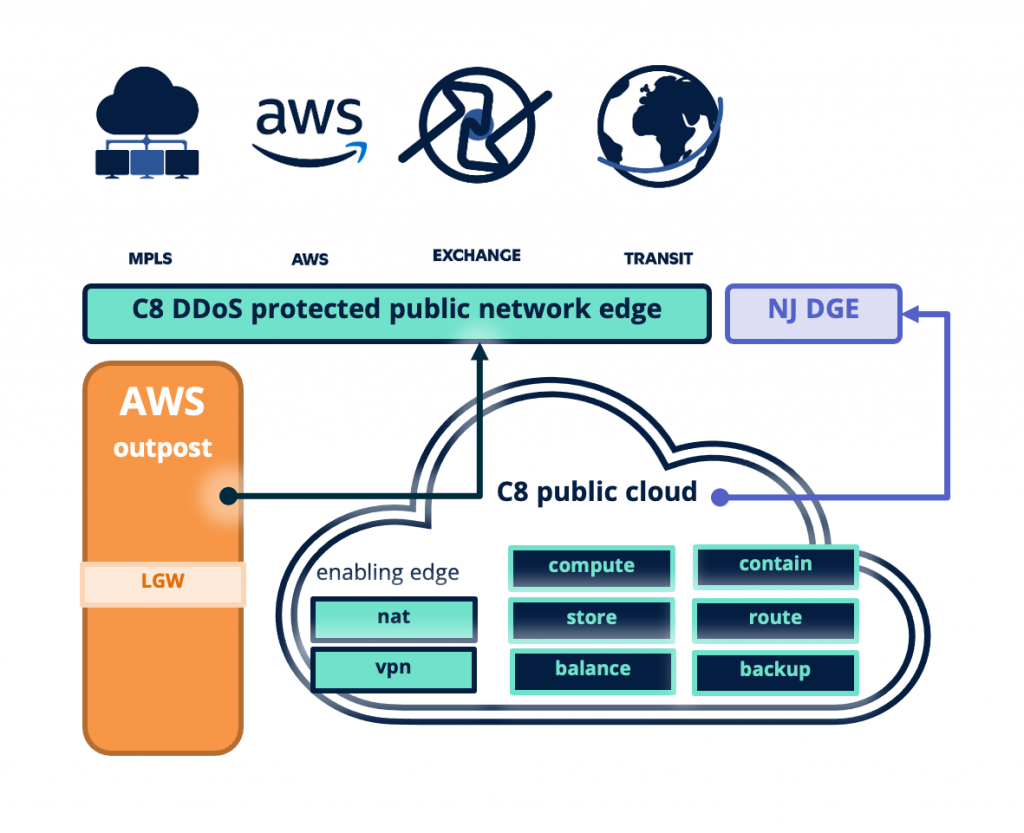 The Solution
C8 proposed and delivered a solution using its regulated public cloud to create a network edge:
The C8 public cloud in New Jersey enables the provision of a network edge function as a service (NEaaS) connected to an AWS Outpost, allowing the connection to internet, AWS and other private network services.
As a regulated cloud approved by the NJDGE, the C8 public cloud was able to be used and connected to and serve as the "bridge" between the NJDGE monitoring and the AWS Outpost.
The C8 cloud has additional capabilities which can act in hybrid with AWS Outpost and AWS – enabling the provision of additional compute and storage and network capabilities without any additional infrastructure, co-location of infrastructure management.
"We can offer Network Edge Services (NEaaS) to provide all of the functionality required to connect an AWS Outpost to the internet and to AWS, both private and publicly. Our customer utilised this infrastructure design to meet their vast needs including a regulatory approval solution and low latency, resilient connectivity. The customer now benefits from a regulated, scalable and cost-effective solution."
Justin Cosnett, Chief Product Officer at Continent 8 Technologies
The Benefits

About
Continent 8 Technologies (C8)
Founded over 20 years ago, C8 is an award-winning, multi-jurisdictional, global network solutions provider that connects, manages, and secures the world's most valuable information.
The company has data centres and strategic points of presence in over 80 connected locations spanning Europe, the Americas and Asia, and is expanding rapidly. Its carrier-grade network powers some of the biggest brands in iGaming.
With a first-to-market strategy, C8 is currently live in 23 states with future sites planned in the near future, enabling customers to capitalise on the fast-growing market.
C8 is an AWS Select Consulting Partner and as a member of the AWS Partner Network (APN), the company can assist iGaming operators and suppliers with AWS services and solutions. This includes the deployment and hosting of AWS Outposts throughout the US, via an AWS Outposts Enablement Package, which provides a delivery team to lead, co-ordinate and support the deployment from pre-install to go-live.
AWS
In 2006, Amazon Web Services (AWS) began offering IT infrastructure services to businesses in the form of web services – now commonly known as cloud computing. One of the key benefits of cloud computing is the opportunity to replace up-front capital infrastructure expenses with low variable costs that scale with your business. With the Cloud, businesses no longer need to plan for and procure servers and other IT infrastructure weeks or months in advance. Instead, they can instantly spin up hundreds or thousands of servers in minutes and deliver results faster.
Today, Amazon Web Services provides a highly reliable, scalable, low-cost infrastructure platform in the cloud that powers hundreds of thousands of businesses in 190 countries around the world.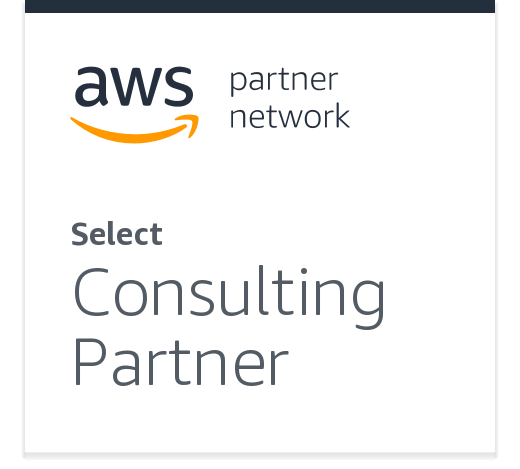 Learn more about C8's AWS Outposts Enablement Package and how we can accelerate your cloud strategy here.
Download the Case Study here: C8 Case Study AWS (EEG)
Aidan Rees-Williams and Lee Bridge join the fast-growing hosting, connectivity, cloud and security solutions provider as Sales Account Director and Account Relationship Supervisor
Continent 8 Technologies, the provider of hosting, connectivity, cloud and security solutions to the global gambling industry, has strengthened its sales and account management team with two hires as it continues to grow at pace.
The company has welcomed Aidan Rees-Williams and Lee Bridge into the roles of Sales Account Director and Account Relationship Supervisor respectively.
Rees-Williams, based in England, will be responsible for ensuring that the company's existing customers receive the best possible service and support, aligning their requirements with Continent 8's growing suite of products and solutions. He will also work with the global sales team to grow the company's customer base.
He joins the company from Viadex Global where he held several senior roles over a six-year career. This includes Global Sales and Operations Manager and most recently Gaming Account Manager where he gained tremendous knowledge and insight into the gambling industry.
Bridge, based in the Isle of Man office, will be responsible for building and leading a new customer success team and to maintain strong working relationships between Continent 8's Sales Account Directors and customers, working closely and collaboratively to achieve the best outcome for both parties.
He joins from a well-known Isle of Man-based business where he spent 30 years working in business analytics and logistics.
Rees-Williams and Bridge join Continent 8 at a time when the company is rapidly expanding into new global markets with a particular focus on the Americas, while also strengthening its presence in established jurisdictions in Europe such as Gibraltar, Malta and the Isle of Man.
Roberta Castle, Chief Revenue Officer at Continent 8 Technologies, commented: "I am thrilled to welcome Aidan and Lee to the team and for Continent 8 to be able to leverage their talents, skills and experiences.
"While we continue to focus on our expansion plans, as a customer-centric business we go to great lengths to ensure that existing customers receive the best possible experience and that the solutions we provide meet their individual needs and requirements.
"This can only be achieved by having a highly experienced team, and in Aidan and Lee we have two people that are at the top of their game. They are a great addition to Continent 8."
Aidan Rees-Williams, Sales Account Director at Continent 8 Technologies, said: "It is an honour to join the Continent 8 team and to be working so closely with its respected partners and customers.
"The gambling industry is fast moving so we need to work closely with our customers to ensure the services and solutions we provide meet their needs. Of course, it is imperative that we deliver the highest levels of assistance and support and that is what I am here to do."
Lee Bridge, Account Relationship Supervisor at Continent 8 Technologies, added: "I am delighted to join Continent 8 and to be playing a key role in shaping its new customer success team as the business continues to expand. I'm looking forward to using my skillset and experience to ensure that our customers receive the highest level of support."
Continent 8 continues to grow, employing almost 170 talented individuals worldwide. View the current vacancies here